For serious art connoisseurs, Jag Gallery is a must visit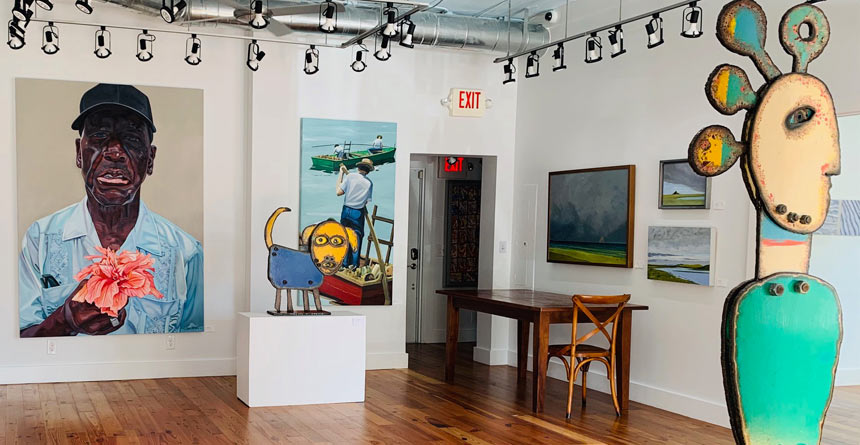 Representing many of Key West's most known and relevant contemporary artists, newly opened Jag Gallery has immediately become THE place for art collectors.
The gallery opened in 2020 by one of Key West's talented artists, Letty Nowak. Inside the brightly lit inviting space you will find incredible works from
AD Tinkham
Carol Munder
Cathy Rose
Lincoln Perry
Letty Nowak
Joe Skoby
John Martini
Michael Haykin
Rick Worth
Sharon McGauley
Susan Sugar
John Martini's, "Let's Dance" exhibit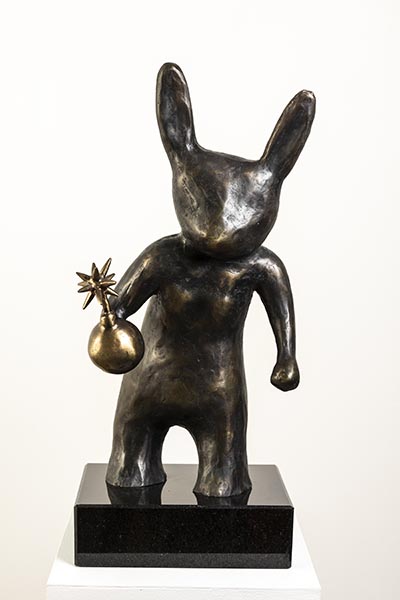 John Martini has a new shimmy. If you've spent even a minute in Key West you've seen his bright steel sculptures. With a career spanning multiple decades John has developed a sculptural language that is native to the Keys, with iconic sculptures gracing public and private collections from Front Street to the Quai Voltaire. John usually spends summers in his Paris studio, sketching templates for these signature works. This past year, quarantined on his couch, hemmed in by politics and pandemics, he turned to pastels. Where his monoprints and even his hulking steel sculptures have a sketchy sense of play, these new works shimmer in their subtlety. Squirming viral images swing and swell in saturated teals and bilious yellows. Sculptures in burnt bright steel tower over smaller works in creamy bronze, spinning the viewer in a constant two-step, movement to constriction, shiny to sinister. JAG gallery invites you to shake off your blues, stop in and watch this work swirl. The latest exhibition, John Martini: Let's Dance opens March 26 through April 19. Jag will host extended hours on March 26th, opening it's doors from 11 am – 7 pm. The gallery is located in Duval Square: 1075 Duval Street Unit C-23. (space closest to Simonton and plenty of parking). For more info call: 305-407-6202
Adam Russell's Totems of Island City to Exhibit
Jag Gallery is honored to be showing the latest paintings by Adam Russell with a body of work entitled: Totems of Island City. For Adam, Totems of Island City is made up of different characters, mostly wildlife that have influenced his life here on the island. From an Iguana whom he names, "The Thief" to a crow, he calls, "The Joker," these skillful executed paintings reflect the colors and lightheartedness of the island of Key West, that he and his wife, Kelly Lever have lived since 2009.
Adam and Kelly have become a strong cornerstone in Key West's art scene with their gallery, Key West Pottery. The two have built a large online presence as well as a beautiful brick and mortar gallery on the corner of Duval and Catherine Streets attracting art collectors worldwide. "I knew Adam was also a classically trained painter, so I thought I would throw it out there to see if he ever would be interested in creating a solo exhibition for Jag of his paintings," says Letty Nowak, Jag Gallery owner. "When he said yes- Russell went full steam ahead working towards this show with several works on canvas and works on paper. It is exciting to see these paintings come to life as they are finished," Nowak adds. "They really do capture the spirit of the island."
Totems of Island City opens at Jag Gallery on Thursday, February 11th. The gallery will host extended hours for the opening day from 11 am – 8 pm.
B. Lucy Stevens New Paintings at Jag Gallery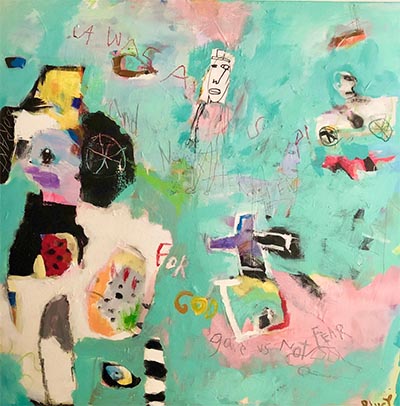 Jag Welcomes B. Lucy Stevens to the Gallery with a Show of her New Paintings opening on January 15th.
B. Lucy Stevens is an internationally recognized mixed-media artist living in Key West, Florida. She paints intuitively from her daily life imagined in a brilliant cacophony of color and pattern. She is inspired by primitive art and her travels to Indonesia, South America, and France.
"I paint what I see, what I remember, and what I imagine and it all gets mixed together, like it is in my mind. I crave solitude but fear isolation. There are times I cannot stop painting—I make a cup of tea and forget to drink it," says Stevens.
B. Lucy Steven's will open our season at Jag Gallery with an exhibit of new paintings that opens January 15th. We will have an opening day on the 15th where Lucy will be present to talk about her paintings.
Jag will also be exhibiting two paintings from Cuban Artist, Juan Carlos Verdial Soltura for the first time.
Address: 1075 Duval Street C-23 (in Duval Square, near corner of Virginia St. & Simonton St)
Gallery Hours: 12pm – 5pm daily
Gallery Phone: 305-407-6202