For serious art connoisseurs, Jag Gallery is a must visit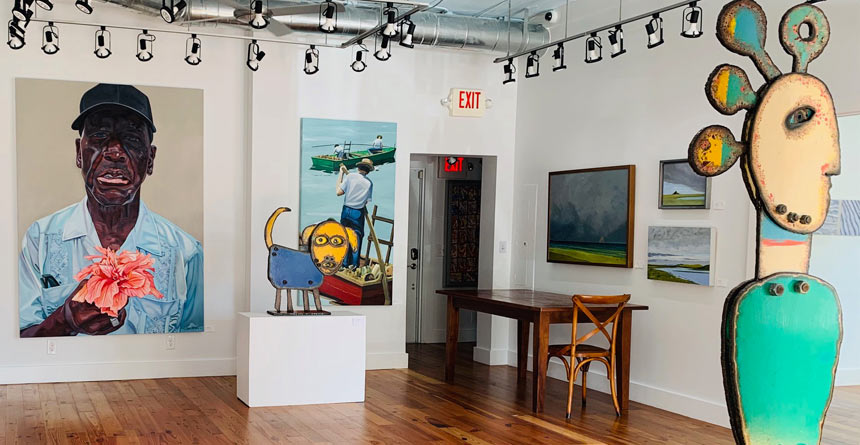 Representing many of Key West's most known and relevant contemporary artists, newly opened Jag Gallery has immediately become THE place for art collectors.
The gallery opened in 2020 by one of Key West's talented artists, Letty Nowak. Inside the brightly lit inviting space you will find incredible works from
AD Tinkham
Carol Munder
Cathy Rose
Lincoln Perry
Letty Nowak
Joe Skoby
John Martini
Michael Haykin
Rick Worth
Sharon McGauley
Susan Sugar
New Exhibition: Kaline Carter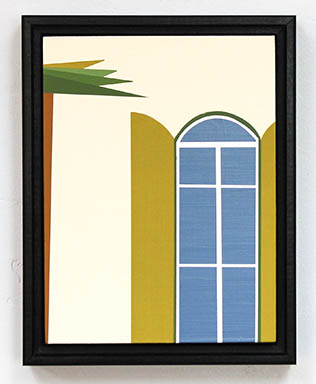 Jag gallery invites you to an innovative minimalist exploration of Key West during extended hours October 29 12 – 7 pm to explore their new exhibition by Kaline Carter at 1075 Duval St Suite C-23.
Kaline spent 20 years resisting Art. He fled Parsons, put aside his paint brushes and settled into a successful design and advertising career. But his client, Texas artist Susan Crouch had other ideas. She kept an easel in her studio for him and whenever he stopped by to talk over her latest ad, she insisted that he paint with her. She always introduced him to her friends as an artist, and when she passed in 2017, he found himself painting to remember her. He brought his designers eye for sharp abstraction to the canvas, experimenting with color and shape until he captured the specific dusty glow of the sky around him. When his Palm Springs series completely sold out his first gallery show, Letty Nowak, owner of JAG gallery suggested that he turn that same sharp attention to Key West.
The results are a sophisticated Key West architecture series that eschews tropical tropes of gingerbread and curlicues. Instead, sharp geometric edges cut into blue skies that shimmer thick with moisture. Where his Palm Springs skies glow with a magenta tinge, Kaline captures a completely different blue in his Key West paintings, a blue that reflects our oceans with a sophisticated minimalist crispness. You can catch that glow at Jag Gallery October 29th – November 16th 12-pm – 5 pm 1075 Duval St
Sarah Boyts Yoder Exhibition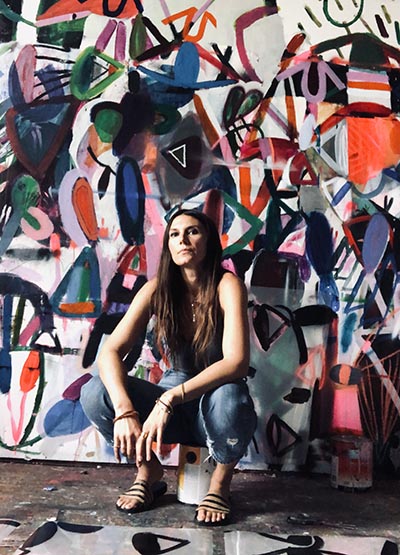 Enter a portal at the opening celebration for Sarah Boyts-Yoder's exhibition, Meantime, October 8th with extended hours from 12-7pm at Jag Gallery. To launch their new season, Jag is proud to welcome Boyts-Yoder back for her second show in Key West. Based in Charlottesville, VA, Boyts-Yoder has exhibited internationally and earned fellowships at multiple residencies throughout the USA. Her work has been featured in numerous publications and museums including the Virginia Museum of Fine Arts.
In a time of flux, Yoder's works on canvas and paper splash with moving color, while creating still sanctuaries for attention. She opens spaces for us to see as an artist, a practice that she says "requires one to stay in a state of fine attunement but also requires acceptance and faith. Faith that the thing that felt like a flash in the margins is actually the whole point."
You can catch these flashes of attunement October 8-26th 12 pm – 5 pm
Sally West and Cathy Rose Show
Join JAG gallery to explore inner and outer environments on July 2nd from 12 pm till 7 pm. The day long opening features works by Sally West and Cathy Rose, both artists who look deeply.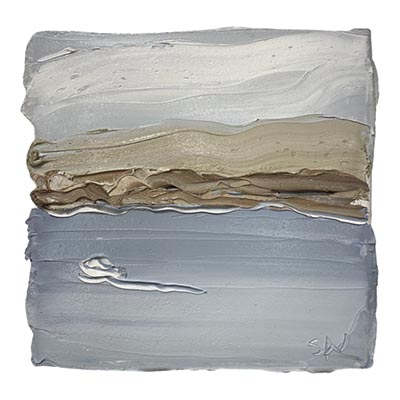 West spends hours working en plein air, capturing dramatic waves and shimmering sunlight with her thick impasto strokes. Her still life paintings distill that same sense of movement into shuddering petals and sparkling glass. "I learned about Sally West, an Australian artist a few years ago and was struck by how free her paintings were" said Letty Nowak, gallery owner. "It's not easy to have the confidence to let simple strokes of color live and have a language of their own. West does that effortlessly. Each of her paintings has its own tone and life and that is remarkable."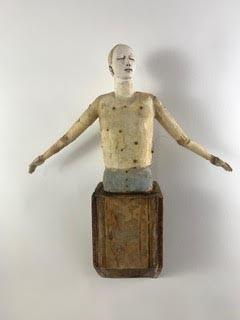 Cathy Rose looks inward rather than out. Combining her subtle porcelain figures with intriguing found objects, she crafts sculptures that simmer with emotion. As Nowak says, "Cathy Rose's work is unmistakable. I've been visiting other cities, seen a piece at a distance and immediately known it was a Rose. Key West has been fortunate to have been exhibiting Rose's work for decades. She has become one of our own." For this show, in addition to an entirely new body of sculptural work, JAG gallery is thrilled to be able to present her first collection of paintings. Still using evocative bits of ephemera as her base, Rose expands into subtle portraits whose deep eyes might reveal secrets, if you take the time to look.
Rick Worth & Letty Nowak's New Works Show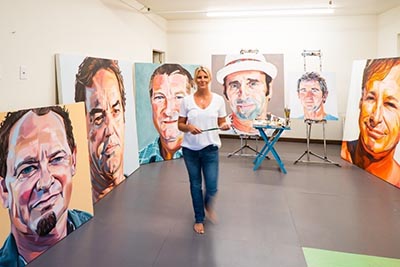 Opening June 11th with an extended celebration from 12 pm till 7 pm.
For twenty years, Nowak has been distilling the essence of many of Key West's most iconic characters in her portraits. Even as her career expanded across the country, her island inspiration remains. In 2020 she opened Jag gallery to highlight the work of the Key West artists who inspire her. And that inspiration is evident in her new large-scale portraits. Her bright blocks of pigment glow beyond the boundaries of the individual portraits to form a conversation in color.
Rick Worth has an even longer tenure as an artist in Key West. On walls, on cars, on roofing tiles and on canvas, Worth has painted his bright tropical scenes all over this island. This new body of work glows with a more subtle light. Worth captures a particular summer kind of Key West glow, the liminal luminosity of streetlights on the poincianas or the dappled glow of sea grapes of Fort Zach.
Catch the cool shimmer of summer at Jag Gallery, New Works: Worth and Nowak, June 11 through June 30th
John Martini's, "Let's Dance" exhibit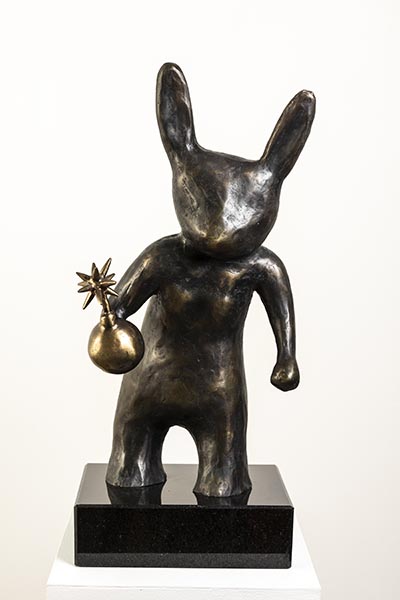 John Martini has a new shimmy. If you've spent even a minute in Key West you've seen his bright steel sculptures. With a career spanning multiple decades John has developed a sculptural language that is native to the Keys, with iconic sculptures gracing public and private collections from Front Street to the Quai Voltaire. John usually spends summers in his Paris studio, sketching templates for these signature works. This past year, quarantined on his couch, hemmed in by politics and pandemics, he turned to pastels. Where his monoprints and even his hulking steel sculptures have a sketchy sense of play, these new works shimmer in their subtlety. Squirming viral images swing and swell in saturated teals and bilious yellows. Sculptures in burnt bright steel tower over smaller works in creamy bronze, spinning the viewer in a constant two-step, movement to constriction, shiny to sinister. JAG gallery invites you to shake off your blues, stop in and watch this work swirl. The latest exhibition, John Martini: Let's Dance opens March 26 through April 19. Jag will host extended hours on March 26th, opening it's doors from 11 am – 7 pm. The gallery is located in Duval Square: 1075 Duval Street Unit C-23. (space closest to Simonton and plenty of parking). For more info call: 305-407-6202
Adam Russell's Totems of Island City to Exhibit
Jag Gallery is honored to be showing the latest paintings by Adam Russell with a body of work entitled: Totems of Island City. For Adam, Totems of Island City is made up of different characters, mostly wildlife that have influenced his life here on the island. From an Iguana whom he names, "The Thief" to a crow, he calls, "The Joker," these skillful executed paintings reflect the colors and lightheartedness of the island of Key West, that he and his wife, Kelly Lever have lived since 2009.
Adam and Kelly have become a strong cornerstone in Key West's art scene with their gallery, Key West Pottery. The two have built a large online presence as well as a beautiful brick and mortar gallery on the corner of Duval and Catherine Streets attracting art collectors worldwide. "I knew Adam was also a classically trained painter, so I thought I would throw it out there to see if he ever would be interested in creating a solo exhibition for Jag of his paintings," says Letty Nowak, Jag Gallery owner. "When he said yes- Russell went full steam ahead working towards this show with several works on canvas and works on paper. It is exciting to see these paintings come to life as they are finished," Nowak adds. "They really do capture the spirit of the island."
Totems of Island City opens at Jag Gallery on Thursday, February 11th. The gallery will host extended hours for the opening day from 11 am – 8 pm.
B. Lucy Stevens New Paintings at Jag Gallery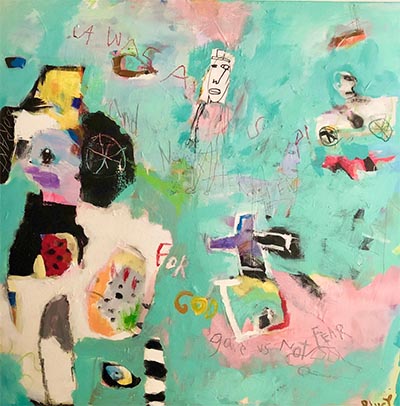 Jag Welcomes B. Lucy Stevens to the Gallery with a Show of her New Paintings opening on January 15th.
B. Lucy Stevens is an internationally recognized mixed-media artist living in Key West, Florida. She paints intuitively from her daily life imagined in a brilliant cacophony of color and pattern. She is inspired by primitive art and her travels to Indonesia, South America, and France.
"I paint what I see, what I remember, and what I imagine and it all gets mixed together, like it is in my mind. I crave solitude but fear isolation. There are times I cannot stop painting—I make a cup of tea and forget to drink it," says Stevens.
B. Lucy Steven's will open our season at Jag Gallery with an exhibit of new paintings that opens January 15th. We will have an opening day on the 15th where Lucy will be present to talk about her paintings.
Jag will also be exhibiting two paintings from Cuban Artist, Juan Carlos Verdial Soltura for the first time.
Address: 1075 Duval Street C-23 (in Duval Square, near corner of Virginia St. & Simonton St)
Gallery Hours: 12pm – 5pm daily
Gallery Phone: 305-407-6202