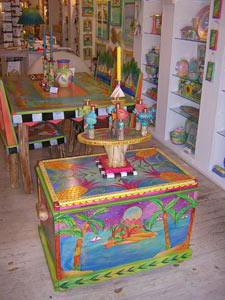 Fun, whimsical, island-inspired works of art and craft.
Vibrant colors splash this gallery of furnishings, pottery, glassware, and paintings.
Wonderful island influenced works by a number of artists.
Island Style galleries showcase extraordinary, one of a kind American arts and contemporary crafts by a select group of exceptional artists. Our collection includes dramatic home furnishings, distinctive American pottery, hand crafted glass, artistic jewelry and more. We are always introducing exciting new pieces and artists to our collections. Island Style has been recognized as one of the top 100 retailers of American crafts.
Hours: Open daily.
Location: 512 Duval Street
Phone: 305-292-7800