From art to oddities and all points in between. Not a gallery, exactly, more of a curator of all things nautical and Key West.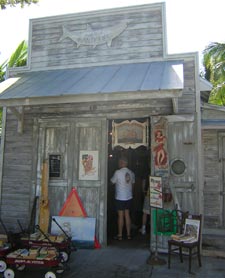 An historical, weather beaten, Key West shell-cleaning shack filled with local art, jewelry, old Key West signs, nautical antiquities & oddities, model boats, portholes, old fishing tackle, vintage lighting and ancient anchors.
Every time we go there, we find something surprising and desirable. While not a gallery in the traditional sense, you still might want to pop in and peruse the unusual collection of nautical oddities.
Phone: (305) 292-1333
Location: 616 Greene Street