Often whimsical, new-age, and inventive, Art @ 830 offers wood, glass, and paintings by local Florida Keys artists.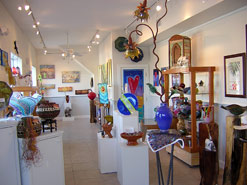 Art @ 830 is a new gallery featuring works by talented, local Key West artists.
This innovative art gallery, created by long-time Key West artists Tony Gregory and Christine Scarsella, offers an inspiring collection of original work.
Unique works of art are available in a variety of mediums including:
Contemporary glass art
Original paintings (by Tony Gregory and other Key West artists)
Ceramics
Turned-wood art
Be sure to not miss the gallery's rotating art shows featuring new, emerging artists.
Location: 830 Caroline Street
Phone: 305-295-9595
Hours: Open daily from 10 am