Learn about the rescue of slaves bound for Cuba in 1860. Many did not survive and were buried here.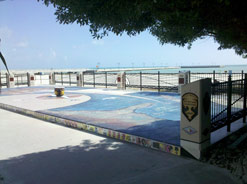 Among modern Key West's greatest characteristics is its inclusiveness. But you may not realize that Key West has historically been an oasis of diversity. During the Civil War, Key West remained in the United States despite Florida having joined the secession. African Americans on the island lived as free men long before it became the law of the land.
Make no mistake of it, though – Key West did have its faults when it came to early race relations, especially when judged from our modern day expectations.
One of the earliest events highlighting the compassion of the island is memorialized at Higgs Beach, adjacent to the West Martello Fort and near the White Street Pier.
Here, you will find a sobering memorial of the astonishing story of the nearly 300 people who died after being rescued from slave ships plying their illegal trade near the island on their way to Cuba.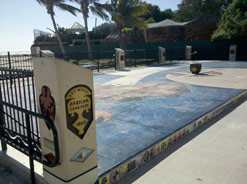 Depicted on the surface of the installation is a map of the Atlantic Ocean showing the slave trade routes and locations where the slave ships were captured.
It is well worth visiting this site to remember this sad chapter of our country's history and reflect on how far we have come as a people.
The State of Florida historical marker at the grave site reads: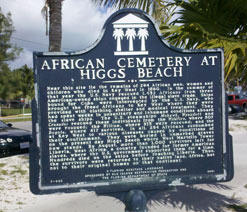 "Near this site lie the remains of 294 African men, women and children who died in Key West in 1860. In the summer of that year the U.S. Navy rescued 1,432 Africans from three American-owned ships engaged in the illegal slave trade. Ships bound for Cuba were intercepted by the U.S. Navy, who brought the freed Africans to Key West where they were provided with clothing, shelter and medical treatment. They had spent weeks in unsanitary and inhumane conditions aboard the slave ships. The U.S. steamships Mohawk, Wyandott and Crusader rescued these individuals from the Wildfire, where 507 were rescued; the William, where 513 were rescued; and the Bogota, where 417 survived. In all, 294 Africans succumbed at Key West to various diseases caused by conditions of their confinement. They were buried in unmarked graves on the present day Higgs Beach where West Martello Tower now stands. By August, more than 1,000 survivors left for Liberia, West Africa, a country founded for former American slaves, where the U.S. government supported them for a time. Hundreds died on the ships before reaching Liberia. Thus, the survivors were returned to their native land, Africa, but not to their original homes on that continent."