Map of noteworthy sites in the historic Key West cemetery.
PRINT USING YOUR BROWSERS "PRINT" BUTTON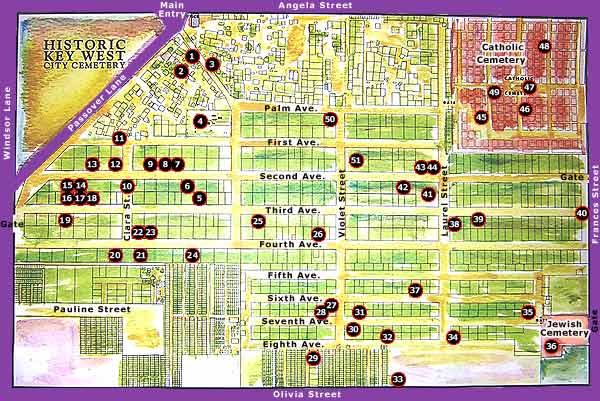 1. Austion and Tina Griffin (d. Oct. 6, 1907) – Husband and wife with the same death date, resulting from a murder suicide, perpetrated by Mr. Griffin.
2. Sophronia Bradley Hall (1880-1945) – Her husband, Guy Bradley, worked as a warden to protect endangered birds in the Everglades from being slaughtered for their plumes to adorn ladies' hats. Poachers killed him in 1905. His death spurred the young conservation movement.
3. Baxter McMillan Parsons (1886-1914) and James Edmund Parsons (1895-1914) – Two brothers killed in a dynamite explosion.
4. U.S.S. Maine Monument – On February 15, 1898, the USS Maine blew up in Havana Harbor, killing some 260 American sailors, a disaster that led to the U.S. declaring war on Spain. Some two dozen of those dead are buried in the plot, on either side of the central copper statue. Other Spanish-American War veterans lay nearby. Civil War era markers line the perimeter of the fence. Veterans of other wars may also be found in the plot, along with two British airmen, on Brazilian sailor, one woman, and one baby. The iron fence and gates with spear points and battle-axes were manufactured by a foundry in Washington, D.C.
5. Mitchell family vault – Unusual brick crypt featuring gabled roofs and arches; very reminiscent of New Orleans cemetery architecture. A Cuban family reportedly built the structure following the death of a son. John Wallace Mitchell (1885-1929) came from New Bedford, Massachusetts to help build the Overseas Railroad.
6. Carlos Recio (1849-1910) – Cuban patriot and wholesale grocer who raised funds locally for the Revolution organized by Jose Marti. Note family name on gate, with the medallion of the Cincinnati Iron Fence Co.
7. Richard Peacon (1840-1914) – An original director of the Island City National Bank and owner of Key West's largest grocery store, he built the city's only octagon-style house between 1892 and 1899 at 712 Eaton Street.
8. "General" Abe Sawyer (1862-1939) – Key West's famous 40-inch tall midget who requested burial in the grave of a full-size man.
9. William Von Pfister (1807-1885) – Grocer and property investor. His store located on the corner of Whitehead and Southard is now the Green Parrot Bar.
10. Gabriel G. Soler (1918-1985) – In the center row of the group mausoleum is a decorative tile marker illustrating Mr. Soler's vocation as a carpenter and his avocation as a guitar player.
11. Ellen Mallory (1792-1855) – Came to Key West in 1823 as one of the first woman settlers. Later, she ran the town's only boarding house "Cocoanut Grove." During yellow fever outbreaks, she served as a nurse. Her son, Stephen Mallory, became a U.S. Senator and Secretary of the Confederate Navy.
12. William Curry (1824-1896) – Arriving in 1847 from Green Turtle Cay in the Bahamas, he made his fortune through a variety of mercantile activities, becoming Florida's first millionaire. Note other impressive Curry family monuments nearby.
13. J. Vining Harris (1865-1936) and Florida E. Harris (1863-1936) – Prominent lawyer who married the youngest daughter of William Curry. They built and resided at the "Southernmost House," the Queen Anne style mansion at the end of Duval Street overlooking the Atlantic.
14. Duncan Cameron (1810-1855) – Scottish foreman for the construction of the Key West Lighthouse in 1847. His stone was carved in Key West and signed by "David."
15. James Sawyer (d. Nov. 1829) and Capt. John H. Sawyer (d. Sept. 29-1843) – Some of the oldest gravestones in the cemetery, these were moved to their present location from the first graveyard destroyed in the 1846 hurricane.
16. Walter C. Maloney (1813-1884) – Staunch Union supporter whose son fought for the Confederacy, his 1876 City Hall dedication speech was published as Key West's first history, A Sketch of Key West, Florida. Also served as mayor of Key West. His great-great-grandson salvaged the stone that marks his grave from the wreck of the Isaac Allerton.
17. William Greene (1813-1860) – Son of Pardon Greene, one of the founders of Key West; the younger died at Fort Jefferson in the Dry Tortugas.
18. Geiger family plot – Their house still stands at Whitehead and Greene Streets, restored as the Audubon House, commemorating John James Audubon's 1832 visit to the Keys to study tropical birds.
19. Harvey family plot – C.B. Harvey (1908-1988) served as mayor of Key West. Wilhelmina Harvey (1912-2005) served as the first woman juror in Key West and was elected tot he School Board and the County Commission. Note her facetious title, "Admiral, Conch Republic Navy."
20. Capt. Francis Watlington (1804-1887) – Early pilot and wrecker. His family lived in the "Oldest House" (322 Duval Street) for over a century. Note the Masonic insignia at the top of the stone.
21. Lowe family plot – Caroline Lowe (1813-1886) flew the Confederate flag from her house on Duval Street, especially when Union troops were marching below. Alfred Lowe (1840-1921), now commemorated with the Stars and Bars, snuck out of Union-occupied Key West to join the Confederate army. He survived to be one of the community's longest-living Confederate veterans.
22. Porter family plot – Joseph Yates Porter (1847-1927) studied medicine in Philadelphia and served initially as an Army doctor stationed at Fort Jefferson.Later, as Florida's first Public Health Officer, he was instrumental in establishing hospitals during yellow fever epidemics. His wife Louisa Curry Porter (1849-1929) was a daughter of William Curry. Jessie Porter Newton (1898-1979) launched the historic preservation movement in Key West. Her home was known as the Heritage House at 410 Caroline Street.
23. Joseph Beverly Browne (1814-1888) – Born in Virginia, he attended the College of William and Mary and came to Key west at the age of 16. Served as marshal, postmaster, mayor, and state legislator. Hosted former Confederate President Jefferson Davis after the Civil War.
24. John Bartlum (d. 1871) – Born on Green Turtle Key in the Bahamas, he married Sarah Lowe, and moved to Key West in 1846. As a shipbuilder, he built the clipper Stephen R. Mallory, launched in 1856, and worked for the U.S. Navy during the Civil War.
25. William Kerr (1836-1911) – Born in Ireland and educated in Massachusetts, he moved to Key West in 1872, working as an architect, contractor, and builder. He built his Carpenter Gothic cottage at 410 Simonton Street along with other buildings in town.
26. Thomas Romer (1783-1891) – an African-Bahamian who served in the War of 1812 as a privateer. His gravestone attests to his 108-year life and his standing as a "good citizen" for 65 years! Marker is signed in lower right corner "Gallagher, Key West."
27. Elizabeth Johnson (c. 1897) – A fine example of the Everlast Company's cast metal markers, made principally of zinc and marketed as "white bronze," that enjoyed brief popularity lat in the Victorian period. Once other such marker is in this cemetery.
28. Henry W. Carey (1877-1933) – This gravestone in the form of a tree bears the insignia of the Woodmen of the World, a fraternal order that provided death benefits to members and their families, including life insurance and a choice of monuments.
29. "Sloppy" Joe Russell (1889-1941) – Key West's best known barkeep and fishing guide to Ernest Hemingway in the 1930s.
30. Vault for the Dr. Felix Varela Masonic Lodge – There are Masonic lodges for each of the major ethnic groups in Key West: white, black, and Cuban. This belongs to the Cuban lodge, named for a Catholic priest who was active in the Cuban independence movement.
31. William H. Malone (1876-1944) – As mayor of Key West during the Depression, he helped beautify the City to make it attractive for tourism. Not his epitath: "He died as he lived – a Christian."
32. A large, unmarked vault is the last resting place of Jefferson Beale Browne (1857-1937), sone of Joseph Beverly Browne (see #23). Read law as a lighthouse keeper at Fowey Rocks light. Following law school in Iowa, he had a distinguished legal career, eventually becoming Chief Justice of the Florida Supreme Court. As an historian, he wrote Key West: The Old and the New in 1912.
33. Manuel Cabeza (d. 1921) – Known as El Isleño ("the islander"), Cabeza fought in the First World War, then settled in Key West. His relationship with a mulatto woman provoked the ire of the Ku Klux Klan, who tarred and feathered him. In retaliation, Cabeza shot and killed one of this persecutors an Duval Street on Christmas Eve, 1921. The next day, a posse meted out frontier justice of its own by removing Cabeza from jail and lynching and shooting him.
34. Minnie Elizabeth Otto (1868-1945) – Her monument matches those of her husband and in-laws (see #41), although she is burried here. Note her epitaph: "Her life was a beautiful morning."
35. B.P. "Pearl" Roberts (1929-1979) – Local hypochondriac who had the last word with her marker: "I Told you I was Sick." Not the grave marker above for Gloria M. Russell (1926-2000): "I'm just resting my eyes."
36. Jewish Cemetery – Graves date from the 1890's to the present. Mourners place stones on the graves as a sign of respect for the dead. Markers feature stars of David, menorahs, and Hebraic epitaphs. Newer graves near Frances Street are similar in design, reflecting the belief that in death everyone is equal. Congregation B'nai Zion Synagogue maintains this plot.
37. P. [Piedad] L.F. de Ayala (1859-1891) – Her grandfather wrote the Cuban national anthem. The maker of the monument, George Clark of Jacksonville, signed the base.
38. Richard Moore Kemp (1825-1908) – A merchant and furniture dealer, he also was an amateur naturalist. Discovered a previously unknown species of sea turtle, which was named in his honor, Kemp's Ridley, or Lepidochelys kempii. Kemp's house, rebuilt following the 1886 fire, is now the Cypress House on Caroline and Simonton Streets.
39. Gladys Bates – Perhaps the most delicately carved angel in the graveyard, a noteworthy example of Victorian statuary.
40. Papy family vault – A notable example of the Gothic Revival Style. resting place of Bernie C. Papy, Sr. (1902-1964), a noted legislator, who served 14 consecutive terms.
41. Otto family plot – Noted doctors, pilots and artists descended from Dr. Joseph Otto (1826-1885) who emigrated from Prussia. Thomas Osgood Otto (1865-1917), husband of Minnie Elizabeth Otto, built the family home, now known as the Artist House, on Eaton Street. Three Yorkshire terriers and a domesticated Key deer ("Elfina") are also buried in the plot.
42. Lightbourn family plot – Walter Sayers Lightbourn (1861-1906) was a leading cigar manufacturer. His son Walter James Lightbourn (1882-1916) lived with his wife in a house on Truman Avenue that is now the Lightbourn Inn.
43. Taylor family vault – An example of the Egyptian Revival style, favored for use in cemeteries because of its associations with eternity.
44. Senator John Lamoney Spottswood (1920-1975) – Long-time friend of President Harry Truman, Spottswood owned a number of properties in the Keys and served as a state legislator.
45. Toppino family mausoleum – Charley Toppino (1890-1958) worked on the building of the Overseas Highway in the 1930's. The family built the central Art Deco style vault in the 1940's.
46. Edwina Lariz (1923-1986) – Her gravestone reads "Devoted Fan of Singer Julio Iglesias."
47. Priests of St. Mary "Star of the Sea" Catholic Church – Located in the center of the Catholic Cemetery under a large cross. Father Fourcade (d. 1878) succumbed to yellow fever.
48. Henry Mulrennan (1830-1874) – Born in Scotland, he emigrated to New York as a youth, fought in the Mexican War, and settled in Key West. When a fire broke out in 1859, he blew up his own house on Fitzpatrick Street to create a firebreak to hold back the flames. During the Civil War, he fought for the Confederacy before Union forces captured and held him in a prisoner-of-war camp in New York. Served as Mayor of Key West after the war.
49. Gato family plot – One of the most prominent cigar manufacturing families in Key West, who stayed in business for half a century. The factory still stands at 1100 Simonton Street. Following the death of Mercedes Gato (1846-1903), the family home became a charity hospital for her. Eduardo Gato, Jr. (1874-1948) lived at 1327 Duval Street, now the Southernmost Point Guesthouse.
50. Los Martires de Cuba – Monument erected in 1862 to honor those who died attempting to free Cuba from Spanish rule during the Ten Years War (1868-1878). The central obelisk commemorates battles, while the upright tablets at each corner list fallen soldiers. The revolutionary cause resumed in 1895 and succeeded three years later. Antonio Diaz y Carrasco (1865-1915), who served as Cuban Consul from 1903 to 1915, is buried here.
51. Plot of the Dade Lodge, F.& A.M. – At the back of the lot is the grave of Capt. James Johnson (d. May 8, 1829), the oldest grave in the cemetery, moved from the earlier graveyard. The stone is signed Robt. Dalrymple, Norfolk.
Reproduced with the permission of Historic Florida Keys Foundation, Inc. For more information go to http://www.historicfloridakeys.org or phone 305-292-6718.