Check out the underwater scene painted by famous marine artist Wyland.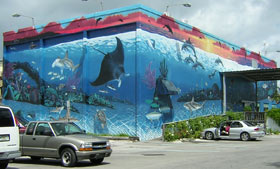 Marine artists Wyland & Guy Harvey teamed up to repaint the faded Wyland mural on Key West's Waterfront Brewery overlooking the Historic Seaport – known locally as The Bight.
Wyland has painted many of these murals throughout the world in hopes of raising awareness and appreciation of the ocean.
Location: Foot of William Street (by the Key West Bight)