Where Hemingway first stayed in Key West, and where he wrote A Farewell to Arms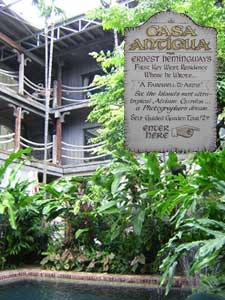 "Casa Antigua" was built in 1919 as "The Trev-Mor Hotel" with the island's first car dealership, "Trev-Mor Ford," on the first floor.
In April of 1928, Ernest Hemingway and his wife arrived in Key West, on an ocean-liner, for the very first time. The were expecting to pick up a new Ford he had ordered to drive back up North. The Ford was late in delivery, stranding the Hemingways at the Trev-Mor Hotel seven weeks until the car finally arrived. It was during their stay that Hemingway fell in love with Key West. In fact, he was so inspired that he wrote A Farewell to Arms while staying there.
Thanks to this impromptu stay at The Trev-Mor Hotel, now known as Casa Antigua, Hemingway decided to make Key West his home.
UPDATE: Casa Antigua has sold to new owners and is no longer open for tours.
Location: 314 Simonton Street