Often-photographed road sign marks the beginning/end of US Highway 1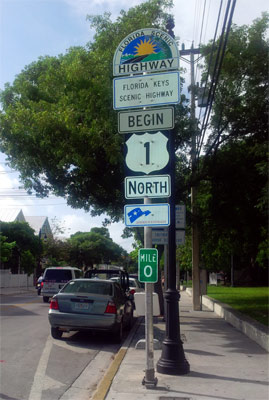 One of the most popular places to have your picture taken is in front of the US1 mile marker zero sign. Every day, hundreds, if not thousands of visitors, smile for the camera and commemorate visiting the southernmost point of the United States.
Stretching from upper Maine to Key West, US 1, known locally as the Overseas Highway, is a 2,369 interstate that connects most major cities in the eastern U.S.
A photograph here is proof that you have made it to the end of the road, escaped normal life on the mainland, and know the difference between too much work and too much play.
Interesting note: the mile marker zero sign, the green and white sign in the picture, has been trademarked by an aggressive local t-shirt shop owner after an extensive and eye-brow raising million-dollar court battle. Yet another chapter in the sordid history of distasteful t-shirt shops blemishing Duval Street.
Location: Corner of Fleming Street and Whitehead Street.