City tour which permits passengers to disembark at ten locations throughout the historic quarter.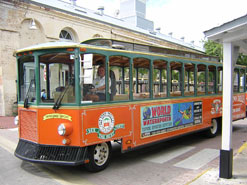 The Old Town Trolley differs from the Conch Tour Train only in it giving you the opportunity to disembark at 11 different locations, visit the attractions in that neighborhood – and then to re-board and continue the tour.
This is the way to go if you have the time to explore the parts of Key West you are interested in. Plus, your paid fare is good for the full day – allowing you to ride as many times as you like during the normal business hours for that day.
Along the way, expect a very good narration of local history, tropical life, and the quirks of Key West.
Cost:
$47.20 + tax for adults and children over 12.
$15.75 + tax for children
Trolley Boarding Locations/Stops: (1) Mallory Square, (1A) Presidential Gates, (2) Historic Key West Seaport, (3) Simonton Row – Simonton and Greene St, (4) La Concha Crown Plaza, (5) Bahama Village Market, (6) Fairfield Inn, (7) Key West Welcome Center, (8) Hampton Inn Key West, (9) East Martello Fort and Museum, (10) Casa Marina Resort, (11) Southernmost Trolley Stop, (12) Truman Ave & Duval St, (13) Angela and Duval Street
Hours: Open every day, 10 am – 4:30 pm.