CHAPTER: MILITIA, by Jefferson B. Browne, 1912
Early in 1877 a volunteer military company with eighty members, called the Key West Rifles, was organized.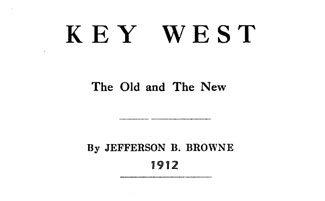 Harry W. Hill was the first captain. It was never a crack company on dress parade, but it answered two riot calls (that is, most of the company did). The most serious of these was when a mob of about fifteen hundred congregated at the factory of Mr. Francisco Marero, threatening his life. Mr. Marero was suspected of having shot and killed an agitator a few nights before. To appease the mob he was taken to jail, but later in the day the authorities decided to defy them, and take him from the jail and escort him to his apartments in his factory, then at the foot of Duval street. Threats were made that if this were done, he would be shot down in the street, or taken from his home at night and lynched. The military company was called out, and escorted Mr. Marero to his home, and did guard duty for twenty-four hours, until wiser heads calmed the mob, and the incident was closed. The members of the company had been notified to assemble upon the ringing of the fire bell, and about noon on Sunday the town was startled by the violent ringing, calling the company together. Most of the members responded promptly, but it was said that one of the company was met running in an opposite direction, and when asked where he was bound, replied he was going for his tobacco. He was last heard of at the Salt Ponds.
The fire of 1886 destroyed all the equipment, and the company was never reorganized.
On the ninth day of May, 1888, the Island City Guards, a local military company, was organized with thirty-two members. Mr. F. C. Brossier was captain, Mr. Charles S. Williams, first lieutenant, and Mr. George L. Babcock, second lieutenant. On the reorganization of the Florida militia this company be came Company 1, Second Regiment of Infantry, Florida State Troops, and is now part of the National Guard of Florida.
The captains who succeeded Captain Brossier were Mr. Henry L. Roberts, Mr. Samuel J. Wolfe, Mr. Louis Louis and Mr. Joseph R. Stirrup, who at present commands the company.
NAVAL MILITIA
In 1910 a battalion of naval militia was organized with Mr. N. B. Rhodes as lieutenant commander. It was the first battalion of naval militia organized in Florida. It holds regular drills and has reached a fair state of efficiency.