CHAPTER: BURIAL GROUNDS, by Jefferson B. Browne, 1912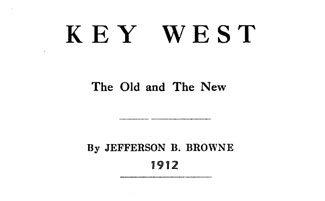 The first graves were made on the western beach between the town and Whitehead's point; most of them in the space between Emma street and the Marine Hospital building. A visitor to the island in 1830 described them as being marked by "a few plain stones to tell that the possessors of the little tenements below once lived and died," but the majority have merely the stones marking the length of each, but "Who sleeps below? Who sleeps below? Is an idle question now."
Prior to 1835 there was no clergyman regularly stationed on the island, and burial services, in common with other rites of the church, were conducted by laymen.
That anyone should have been an "old citizen" as early as 1831 seems strange, but the local paper of that day published a notice of the death on "Friday, the 13th of May, of Robert B. Stanard, Esq., formerly of Virginia, and one of the oldest inhabitants of our town." The funeral services were conducted by Mr. Wm. A. Whitehead. His remains were placed in the cemetery near the Marine Hospital.
In 1831 a committee was appointed by the town council to select a proper site for the permanent location of a general burial place. Part of tract fifteen, lying between the termination of Whitehead street on the South Beach and Lighthouse Point was selected and used until 1847. The destructive hurricane of 1846 not only added to the number of the dead, but disinterred many who had been buried in the old tract. This circumstance gave rise to the necessity of seeking another place for sepulture.
As late as 1855 interments were occasionally made in St. Paul's Episcopal churchyard.
In 1847 the city purchased the greater part of what is now the City Cemetery, which lies to the northeast of Passover and Windsor Lane. The cemetery has been enlarged from time to time by the purchase of adjacent tracts. It lies now in a thickly settled part of the city, surrounded by residences and tenement houses.
In 1868 the Rt. Rev. Father Verot, the Bishop of St. Augustine, secured from the city council, the grant of a tract of three hundred feet square in an unoccupied portion of these grounds, for the consideration of "one dollar," and as the conveyance reads, "to be devoted to the exclusive use of a Catholic burying ground, by and under the control of the said Bishop and his successors in office."
The disinterment of human bones on the southeast side of the island, where excavations were being made for public improvements a few years ago, gave rise to the impression that a public burying ground had once been located in that vicinity. These remains, however, were those of the Africans who were brought to Key West in two captured slavers in 1860; a number of these died here, and were buried some distance from the barracoon, at the place where the bones were found.
A custom prevails in Key West not practiced elsewhere in the United States, of closing the doors of stores while a funeral procession is passing. All business along the line of march is suspended, and the last tribute of respect thus paid to the dead.