Fish with a group for snapper, grouper, and other pan fish. Stable boat provides inexpensive fishing trip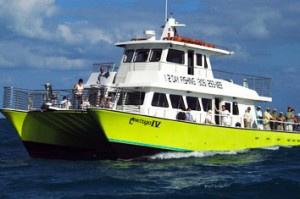 This is a fun and inexpensive way to enjoy fishing the Florida Keys & Key West.
Also known as drift-fishing, you'll go out to the reef area on a large vessel with as few as 20 or as many as 49 people. Once there you will target snappers, groupers, grunts, jacks and whatever is running that day.
All equipment is provided and you'll have access to modern restrooms and a well-stocked snack and beverage bar. The galley is air-conditioned and comfortable.
The friendly mates will supply you with the appropriate bait and, if you were lucky, will fillet and bag your catch to take home. You are welcome to bring your own coolers.