See local Key West dolphins in the wild & up close. Swim and snorkel nearby patch coral reef.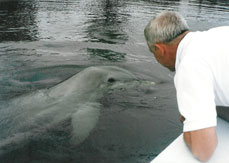 Schools of wild dolphins inhabit the waters surrounding Key West. Several small companies are available to take you out in search of these magical creatures in their natural habitat. Dolphin are so common in the Key West area that one specific location is often referred to as the "dolphin playground".
Dolphins are curious, friendly, yet wild mammals that are protected by stringent federal regulations. Visitors are not allowed to feed, touch or swim with dolphins in Key West. They may, however, come up to the boat and frolic and jump for your pleasure and leave you overjoyed at this unforgettable meeting.
After your visit to the dolphin playground, your guide will then take you to some wonderful backcountry snorkeling spots to see live coral, sponges, and colorful tropical fish. Snorkeling equipment and instruction are included.
Keep in mind that dolphins are wild animals, and although the captains do an excellent job of finding them each day, their presence is never guaranteed. Still, the pristine beauty of their home will never disappoint.
Recommended (Our Favorite) Key West Dolphin Trips:
Wild About Dolphins – Dolphin-Watching Trip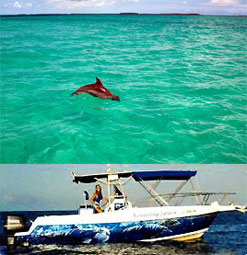 This is the original dolphin charter of Key West. This trip is limited to six passengers, with morning or afternoon availability.
This four-hour trip includes a visit to the dolphin playground and a second stop in the backcountry for snorkeling.
Breakfast or lunch, light snacks and beverages, as well as all your gear (snorkeling equipment, towels, wet suits, binoculars), are included.
UPDATE: Wild About Dolphins is only available as a private charter. You may have up to six people in your party.
Trip Times: 8 am – 12 pm & 1 pm – 5 pm
Cost: $550 (+ tax) – PRIVATE CHARTERS ONLY
For reservations and information:

Dolphin Cat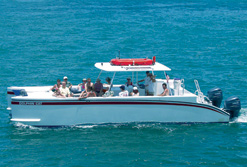 This dolphin watching trip is aboard a spacious catamaran, providing plenty of room for up to 18 passengers.
This three-hour trip includes a visit to the dolphin playground and a second stop in the backcountry for snorkeling.
Snorkeling equipment and beer, wine, soft drinks, and water are included with this trip. Rental wetsuits are available, though not necessary, for $10.
Trip Times: 10 am – 1:00 pm,
2:00 pm – 5:00 pm
Cost: $74.95 per adult, $54.95 per child ages 4 – 10, FREE per child under 4
For reservations and information: